What's so unique about the Chicago Bridge Line is how it came to be. When you learn a bit about the historical landmarks that that Chicago has and how they came to be is an exploration to Chicago history. It never dawned on me until our Abbey Brown Soap Shop moved in near a wealth of bridges connecting our city. No matter where you go there is a chance of crossing the Chicago River and now you have traveled on a bridge designed and built in 1908. The history on how these were built have been written about, the respect to them come from letters written home by the builders themselves.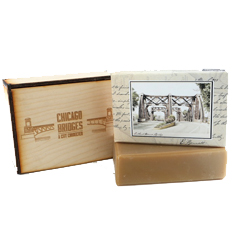 A couple of years ago,  Zack Martin a senior at Illinois Institute of Art, wanted to design some sort of packaging for his final project. As we talked about a product that we could calibrate on we covered many of our interests and inspirations. We circled back on his love for bridges and the photo's and history that lured me in an area I had not thought much about. It excited me to see his packaging ideas come to fruition.
A great gift for the Chicago History buff in your life…. Or maybe a gift just for you.
Sandalwood & Amber.
Comes Without Wooden Gift Box, available in store only.