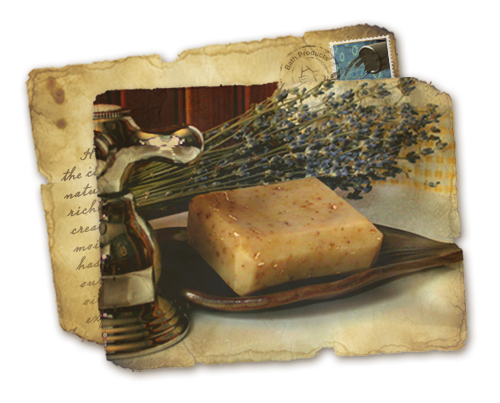 OLIVE OIL SOAPS
Simply cold-pressed Olive Oil, without a single chemical, preservative, paraffin, phylate, or petroleum. The remainder? Well, we select the finest, most nourishing plant oils and blend them with pure Essential Oils to distinguish and balance the bar. We infuse our oils with fresh, locally grown herbs and botanicals.
We could go on… how each bar is cut, cleaned, and packaged by hand in our unique, handmade packaging. Did we mention that Olive Oil Soap softens dry, sensitive skin? It is a fantastic, moisturizing emollient. Use our soaps for face and body… Behind the ears and between your toes… Love 'em up!
Description Abbey Brown soaps are made up of 58% Olive Oil, while the remainder is a carefully selected combination of fine oils and essentials to distinguish and balance the bar.
Benefits Olive Oil Soap loves your skin and is excellent for all skin types.
Instructions Use our soaps for face and entire body. Use them for hostess gifts (they're already wrapped), and share them with friends. And be sure to use a draining soapdish to keep your soap dry and happy!